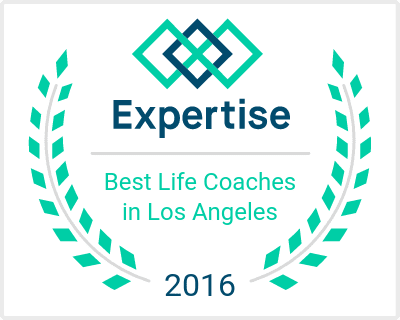 "Recognized as one of the top 20 life coaches in Los Angeles 3 years in a row from 2016 - 2018"
---
Much
love and gratitude
for being here.
Step into your greatness. Move past limiting beliefs.
Are YOU ready to move on from the b.s. that's been holding you hostage and making you doubt yourself, your worthiness to RECEIVE and your ability to make yourself a priority once and for all?
Are YOU ready to finally let go of the past (mommy issues, daddy issues, relationship issues, identity issues, money issues, self-image issues, self-confidence issues, work issues....ugh! ALL the issues!)?
If you answered, YES .. then please keep reading.
---
Working with me means...
POWERFUL. LIBERATING. LIFE CHANGING RESULTS.
---
I teach women and allies in the LGBTQ community how to tap into and UNLEASH their PERSONAL POWER. This clears a path so you can create a life you want.
[Btw,

allies are people who do not identify as LGBT but support the community]
I teach women and our allies how to

overcome personal struggles

using self-love, self-care, self-celebration and the Law of Attraction to heal unresolved emotional trauma while moving you toward more of a I DESERVE mindset.
I also empower female entrepreneurs through mentoring and training programs designed to push them to the next level in their industry while supporting their growth and helping them navigate through growing pains. Speciality: Life Coach Training.
Are YOU ready to create a life YOU love?
If you are a woman or ally in the LGBTQ community with a busy schedule, you may notice when your self-love tank starts to get low, your self-confidence starts dipping too and worry starts to creeps in.
When you don't take care of yourself, ALL other areas of your life are affected instantly.
You need the right tools and the right support system to take your life back and then to the next level.
That's where I come in. Take a leap of faith. INVEST in YOUR own growth.
---
If you are a woman in the LGBTQ community (or one of our allies) and ready to learn proven methods designed to teach you the art of unapologetically showing up for yourself, I invite you to join the thousands of of other women who have already said YES to working with me. I am committed to serving you. I am committed to bring you almost a decade of experience that I have in this industry.
Now, it's YOUR turn!
---
I use a unique combination of
teachings
from leaders in the personal development industry while integrating a bit of metaphysical teachings and leveraging
Law of ATTRACTION
and Law of Detachment alongside my propietary coaching tools, coaching training and of course....
my real world experience to take your life to the next level.
---
I am on a mission to inspire and empower as many women as possible in the LGBTQ community ....because it is OUR birthright.
---
I am PASSIONATE about sharing the same teachings that brought me from feeling wounded and broken to being a successful entrepreneur, brilliant healer and master manifestor.
Contact me now for a FREE CONSULTATION
Are YOU ready for next level thinking and healing?
Have a LIFE CHANGING day,