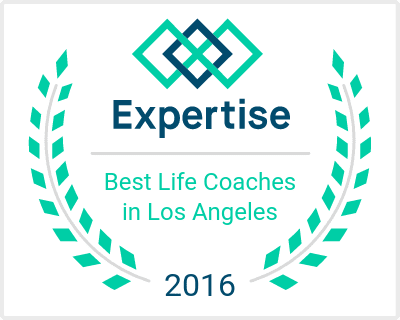 "Recognized as 1 of the top 20 life coaches in Los Angeles

3 years in a row

from 2016 - 2018"
---
Much
love and gratitude
for being here.
Time to move past your limiting beliefs.
Time to release your emotional baggage.
Are YOU ready to move on from the b.s. that's holding you hostage and making you doubt yourself, your worthiness and your ability to THRIVE, not just survive?
Are YOU ready to release the trapped emotions causing you issues (mommy issues, daddy issues, relationship issues, identity issues, money issues, self-image issues, self-confidence issues, work issues....ugh! ALL the issues!)?
If you answered, YES .. then please keep reading.
---
POWERFUL.
LIBERATING.
LIFE CHANGING RESULTS.
---
Hi, I'm Coach Kerri and my superpower is I teach LGBTQ women & Allies how to tap into their PERSONAL POWER by releasing trapped emotions so they can make more money, attract healthier relationships and achieve ideal health and wellness.
Overcome personal struggles

and increase your self-love while learning TRUE self-care and MORE creative ways to self-celebrate.
Learn how to leverage the

Law of Attraction

to create an I DESERVE mindset.
And, if you're a Female Entrepreneur, opt to receive personal power mentoring designed to push YOU to the next level in your industry as you navigate through growing pains.
Are YOU ready to create the life YOU deserve?
INVEST in YOUR expansion.
Create a new VISION for your life.
---
Experience proven methods designed to heal your emotional trauma, increase your self-confidence and create a new mindset.
Join the thousands of women and allies over the past decade who have already said YES.
Now, it's YOUR turn!
---
Utilizing a combination of
teachings
from leaders in the personal development industry PLUS energy healing (THE EMOTION CODE),
Law of ATTRACTION
, and Law of Detachment alongside my propietary coaching tools and of course....
my real world experience, I am prepared to take YOU to the next level.
---
I am on a mission to heal, inspire and empower as many LGBTQ women and allies
as possible worldwide.
---
I am PASSIONATE about sharing the tools that brought me from feeling wounded and broken to being a successful entrepreneur, brilliant life coach, gifted healer, powerful mentor, results-driven trainer and master manifestor.
Schedule a FREE 45 Rapid Change Coaching Session
Have a LOVE FILLED day,