Hi, first and foremost -- please know that I am pretty serious about being of service.
I am committed to helping my clients achieve their personal and professional goals. One of the reasons I am so committed is because when they win, I feel like I win.
I want to work with women and allies who are ready to create an environment where they are living in joy and feeling fulfilled.
I am personally inviting YOU to step into your greatness, move past your limited beliefs while learning the skills and techniques necessary to transform your life.
I understand what a big leap of faith it is for someone to consider going on a healing journey. From experience, I know you really have to trust in who is guiding you.
That being said, I invite you to keep reading so you get to know me a little better.
Check out just a few of the highlights of my career.
---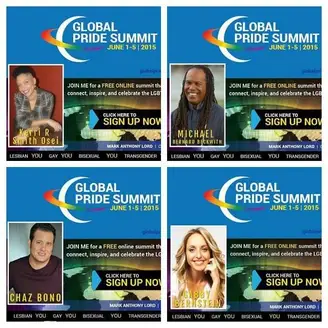 A few years ago I was honored to be a featured speaker alongside Chaz Bono, Gabby Bernstein, Michael Beckwith and so many more at The GLOBAL PRIDE SUMMIT , an event that brought together some of the greatest teachers, healers, coaches, artists, celebrities and s/heroes moving us forward with their dedication to freedom, self-love and acceptance.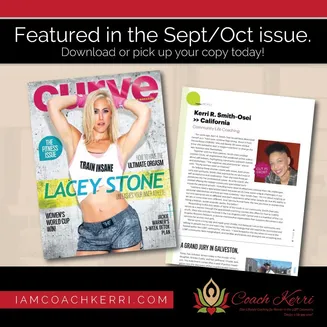 Another very proud moment was being featured in Curve Magazine for my empowering work within the LGBTQIA+ community.
---
Download my Press Kit by clicking here!

(NOTE: This version of my Press Kit is not the most recent version; contact for more info!)
---
More about me...
I am the Owner, Resident Life Coach and Emotion Code Practitioner at NUFF Healing, LLC , an elite lifestyle services company that provides life coaching, energy healing, couples coaching, mental wellness training and personal power mentoring for BIPOC women primarily in the LGBTQIA+ community and Allies.
I am a...
Certified LGBT Life Coach
3x Certified Master Life Coach
Certified Relationship Coach
Certified Law of Attraction Coach
Certified Emotion Code Practitioner [Energy Healing]
Transformational Speaker
Results Driven Mental Wellness Trainer
Personal Power Mentor

Registered Associate Marriage and Family Therapist
---
"Coach Kerri is like my life coach soulmate" ~B.Sweat (client)
---
As a COACH + MENTOR , I have helped individuals overcome their personal struggles. I have empowered entrepreneurs to expand their businesses. I have led families to healing. I have taught thousands of people how to create a life they love.
I am empathetic, profoundly compassionate, and supportive. I powerfully guide my clients into their personal greatness because I am completely aligned with their needs. I have been told that my coaching style transcends the norm.
My style of TEACHING equips individuals with the strategies and tools they need to be successful in life.
It brings me JOY to show my clients that despite their past or present circumstances, life is still worth living and you can turn lessons into blessings and pain into purpose.
"Whether I am reminding clients not to get stuck in their story or empowering them to make peace with the pieces of the puzzle of their life, I have been referred to as a powerhouse of enlightenment and I'm grateful to be living in my purpose."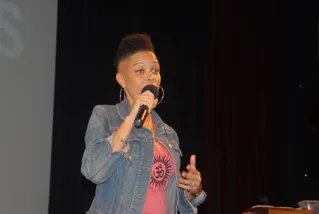 I have worked with LGBTQ youth in foster care helping them transition out of the system guiding them on coming out and being queer with limited family support.
I am also a member of the
Los Angeles Women's Network
, a diverse membership organization that supports the Los Angeles LGBT Center's vital services for women and girls by providing opportunities for service, education and networking.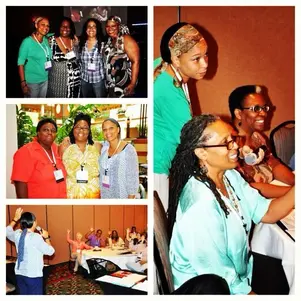 I have taught numerous
EMPOWERING WORKSHOPS
nationwide and have delivered inspirational speeches to crowds of all sizes. I have published several E-books and am a featured columnist and blogger for several magazines and organizations.
I have created
VIRTUAL COACHING COURSES, VIRTUAL COACHING BOOT CAMPS
and
VIP programs
focused on healing from emotional trauma, self-love, personal development, career advancement, relationships, and spirituality.
I feel super blessed and grateful to be living my dream and healing others in the process!
"A coach can play any number of roles – mentor, consultant, motivator, but one thing she is not is a therapist. Coaching deals with the "how" -- how you can move on from where you are and make change. It's action-oriented, and concerned with the present and future, not the past." - Shape Magazine
---
Affiliated with American University of NLP :


If you have any questions, or just want to share some feedback with me, feel free to fill out the form below.
We are committed to your privacy. Do not include confidential or private information regarding your health condition in this form or any other form found on this website. This form is for general questions or messages to the practitioner.