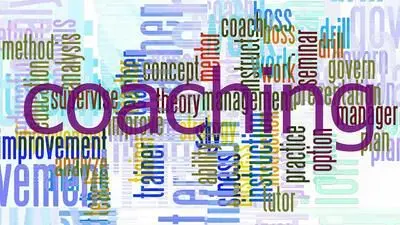 Do you NATURALLY motivate and inspire people in your everyday conversations?
Do you feel like the "problem solver" at work, home, with friends...basically everywhere you go?
Do you want to be of service and help others FEEL good about themselves?
Do you believe EVERYONE deserves peace and joy?
Do you believe people can change?
Are you passionate about helping people realize their FULL POTENTIAL?
If you answered YES to any of the questions above, you are probably a natural life coach already who just needs the right training and tools to make a business out of it. You can absolutely channel all of your passion into this life purpose (and become financially abundant in the process...that's a bonus).
---

So, are people really going to pay you to be their Life Coach? Hmmm...

Well, YES. Of course, they will. LIFE COACHES give their clients the same thing a sports coach gives to their elite athletes. We teach. We guide. We support. We empower. We cheer. We give tough love. We push and pull out the best version of individuals. Our clients, like elite athletes all, want to achieve goals and we help to make that happen....quickly.
Life Coaching is a calling.
If the idea of seeing yourself and others succeed over and over again brings you joy, then this is probably YOUR calling.

TIP: An excellent way to prepare to become a Life Coach is to hire a Coach and experience the coaching process for yourself. This gives you an idea of what your clients will go through when they coach with you.
---
WHY CHOOSE THIS LIFE COACH TRAINING PROGRAM?
This program is comprehensive yet easy to follow with over 25+ DONE-4-YOU templates and forms.
This program is designed to give you ALL the necessary tools you'll need to become an amazing life coach (you can LITERALLY start a coaching business in 12 weeks in any niche you want and you can cater to any target market you desire after completing this training program)
You have the flexibility to choose HOW you receive your training: 12 weeks of Online (Self-study), Remote (Skype, FaceTime, Zoom), or In-Person (Los Angeles and San Diego)
You are eligible to receive your Accredited Coaching Certification in as soon as 10 weeks (take your certification test anytime after week 10)


What do you receive as a part of this power-FILLED training?
An accredited certification accepted worldwide (coach ANYWHERE in the world!)
My proprietary REAL WORLD experience (As a Certified Life Coach, Certified Relationship Coach, and Certified Law of Attraction Coach I've had my ups and downs as I built my Coaching business; Over the past decade I've learned some unbelievable lessons and during training, I share them transparently so you can avoid the same pitfalls).
Ability to participate in Coaching Role Play exercises to prepare you for your REAL LIFE sessions
Real-time session support for up to 3 coaching sessions
Done-4-You Coaching Templates (doesn't get much easier than this)
Sample Coaching Programs (customize them and build your own program)
Done-4-You Marketing Tools and Checklists (Everything you need to start your business in 12 weeks or less)
Daily Digital Access ( by text, social media, and email)
BONUS Business tools (answers to questions you haven't even thought of yet, but will)
4 [60 Min] 1:1 Personal Coaching Sessions (experience coaching for yourself before your official training starts)
8 [75 Min] Training Sessions (8 Modules of training and a certificate of completion)
10 Hours of Training Modules on Video
100 pg Workbook
What will YOU learn in this Life CHANGING training?
How to transition into Coaching from another career
All the stages of learning to be a Coach (including the legal ramifications that come with Coaching and a list of who you need as a part of your business, i.e. small business accountant, etc.)
How to get organized in your life AND in your Coaching business (clutter-free is the best way to be!)
How to establish a work/life balance (taking care of your star player, YOU!)
Who to Coach (your target market and your IDEAL client)
How to choose a niche for your Coaching (what kind of life coach will you be?)
How to brand your Coaching business (ever heard of Pepsi or Coke? You got next!)
How to market your Coaching business (social media is just the tip of the iceberg!)
How to price your Coaching services (how much will you charge?)
The best contact strategies to sign clients (where will you find clients?)
Networking strategies (who should you collaborate with?)
How to write an elevator speech (30 seconds or less)
Social media best practices and strategies (go viral!)
How to package yourself as a Coach online AND offline (perception is EVERYTHING)
What to include on your business checklist (everything you need to know to start and run your business...legally and ethically)
How to troubleshoot your Coaching practice (test a few ideas before we launch your business)
How to LAUNCH your business immediately after your training is complete
How to create a VIP Signature Program for your Coaching business
How to create a Group Coaching Program for your Coaching business
How often do we meet for Life Coach Training?
We meet WEEKLY or TWICE/Month for coaching sessions via phone, ZOOM.US, Skype, FaceTime, or in-person (Los Angeles and San Diego).
You receive coaching homework following each session with accountability due dates included.
Check out a few testimonials from some of the Life Coaches I've trained and mentored.
To feel even more of the love...check out what a few of my Life Coaching Clients, Facebook Fans, and Twitter Followers have to say by clicking here!
"Coach Kerri doesn't just train you—she becomes your partner in becoming a life coach, offering you mentoring, marketing help, and personal development coaching in addition to teaching you the skills you need for success. I'm excited about coaching and very confident about my new career path now that I've taken her three-month training course and am preparing for my first big program! If you've been thinking about becoming a coach, contact her." ~Jack Ori, Asperger's Life Coach (Website: Click here! )

" You've helped me mute the fear that was slowing me down, reached out, and have earned my first payday as a result! Restored confidence put me back in action with sample sessions (3 since our last session) and they were definitely my best. The last two weeks have been really incredible and if anything, I want to expand my current momentum." ~K L Elliot, Life Coach, Author, and Speaker (Website: Click here! )

"Life coach training with Coach Kerri has been more than just training; it has been a transformative experience and one of the most affirming experiences I have ever had! Coach Kerri is an attentive, keep-it-real, challenging, and powerful mentor and coach. There was no question too hard and I never felt like she was unavailable to me. She helped me believe in my gifts and how they serve my purpose. I often mimic her style of coaching and positive approach to coaching with my own practice. I am just starting to build a clientele, but I feel more than ready to do so thanks to training with Coach Kerri. I am grateful for the real "true to life" approach she used to train and encourage me to be who I already am, just with intention!" ~ Ifasina TaMeicka Clear (Website: Click here! )
"A few months ago I approached Coach Kerri about mentoring me to become a Life Coach. I had been following her on Twitter for several months before approaching her; her inspirational messages and energy drew me in. Coach Kerri was prompt in her response to my request, and was willing to work within the parameters of my budget, and offered me a service that would bring about an amazing return on my investment; one that has proven to be immeasurable. I graciously attribute my fast start and much of the success of my growing coaching practice to the guidance, insight, and support she has rendered to me. Today she remains my personal Life Coach, and I continue to confide in her wisdom for ongoing support. She is also someone I would consider a friend." ~Bradford Speaks, Life Architect and Author (Website: Click here! )

"I hired Coach Kerri to jump-start my career as a Life Coach 2 years ago. She was extremely knowledgeable, supportive, and insightful. We clicked immediately because of the passion and excitement we shared for coaching. To this day, Kerri still mentors me and gets me energized every session. I would highly recommend Coach Kerri to anyone." ~Jennifer Iaonole, Inspirational Life Coach, Health & Wellness Coach (Connect with Jen here! )
"Coach Kerri is a phenomenal and powerful influence in my life. When I asked her to be my mentor, she embodied that presence and so much more. I am blessed to have her join me on my journey. I thank her for pouring into me and encouraging me in my Higher Work. I look forward to the amazing work we will do together and individually." ~Renair Amin, Master Life Coach (Website: Click here! )
---
Cost:
Lump-Sum: $5,000 (A Savings of $500 vs. payment plans)
Payment Plan Option 1 (Deposit: $500, 4 equal payments of $1125)
Payment Plan Option 2 (Deposit: $500, 5 equal payments of $900)
To pay your Deposit : (Once your deposit is received, YOUR spot in the training program is automatically RESERVED. You will be contacted via email to confirm the payment plan option and your payment arrangement due dates. You will also receive your contract, client intake forms, and digital welcome kit)

To pay your deposit, CLICK HERE
To make a Lump Sum payment, CLICK HERE : (Once your payment is received, you will be contacted via email with your contract, client intake forms, and digital welcome kit)
---
Click here to ask any other questions not answered above.
*All Deposits and Fees are non-refundable. Additional terms may apply. Full disclaimer outlined in individual coaching contract issued after the deposit is received.